Common Passion for Mother and Daughter
Common Passion for Mother and Daughter
I remember having one dream throughout all my childhood – to grow up and be like my mother (oh God! I wish I could bring back those carefree years). Like all other little girls, I always wanted to use her cosmetics, imitate her special tradition of applying a night cream, wear her high heels and dresses (in fact, I used to do it when mum wasn't at home). But most of all I admired her perfumes. She became a different person after using the scent: from busy housewife and mother to confident gorgeous lady similar to the one from the cover of a magazine. It always amazed me how a small bottle of sweet-smelling substance is able to make such a dramatic difference to a person.
There was some mystery about the way my mum was wearing fragrances. I was looking at her and falling in love with a perfume art.
Today I am proud to share this interest with the dearest person in my life due to the reason that our favourite perfumes create a special form of connection between us even thousands of miles apart.
Frequently I observe how young parents make efforts to involve their little ones into dozens of classes: sports, music, art, dancing etc. Obviously, children need hobbies to develop their skills and character, to find their own passion and love, to communicate and spend less time in front of the computers. However, so few parents focus on creating common hobbies in order to build that precious parent-child connection.
An experienced child psychiatrist, Alvin Rosenfeld, is convinced that common hobby is a key to reaching a successful mother-daughter relationship: "Nothing will bring you together faster than sharing a passion. Your children will feel that they know you more intimately and that they have something that the two of you can share for the rest of your lives."
This blog post is devoted to young mothers who are looking for opportunities of creating a life-long connection with their daughters. If you have a passion for perfumes, why not to share it with your daughter? As all little princesses love mum's cosmetics and wardrobe, they would be excited to step into her shoes for a while. You can involve your little beauty into the process of creating her own perfumes. Primarily, you as a mother will benefit in two ways by doing so: strengthen the existing bond with your daughter and find a long-lasting hobby for her.
Me Fragrance offers a brand new option for mother-daughter hobbies: developing fragrances.
Of course, you can pick up some good age-appropriate perfumes and present them to your kid. But let's be honest: there is no fun. You daughter will lose the interest on the second day. Me Fragrance encourages you to make perfumes by yourself. First of all, you will get the natural fragrances by using only natural essential oils, which is harmless to kids. Secondly, it may become a long-lasting hobby for your Little Miss Happiness simply because nearly all the girls are crazy about cosmetics and feeling beautiful.
There are perfume kits for different levels with detailed guidance on how to become your own perfumer. Moreover, you can create a perfume with your private label at our website. All you need to set up this 'aromatic' hobby is a desire to make unforgettable memories for your daughter.
Let's have a closer look at Me Fragrance Perfume Kits: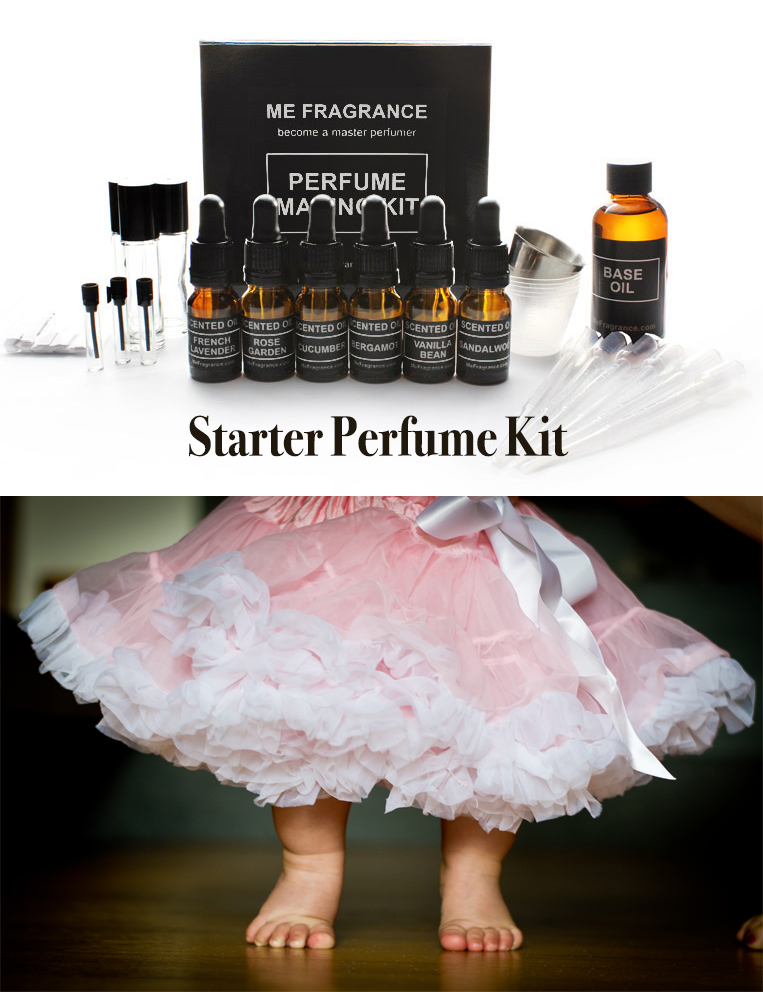 It is a perfect choice for those creative mums who have decided to try something unusual. Our Starter Perfume Kit will get you making your own custom scents in less than 10 minutes.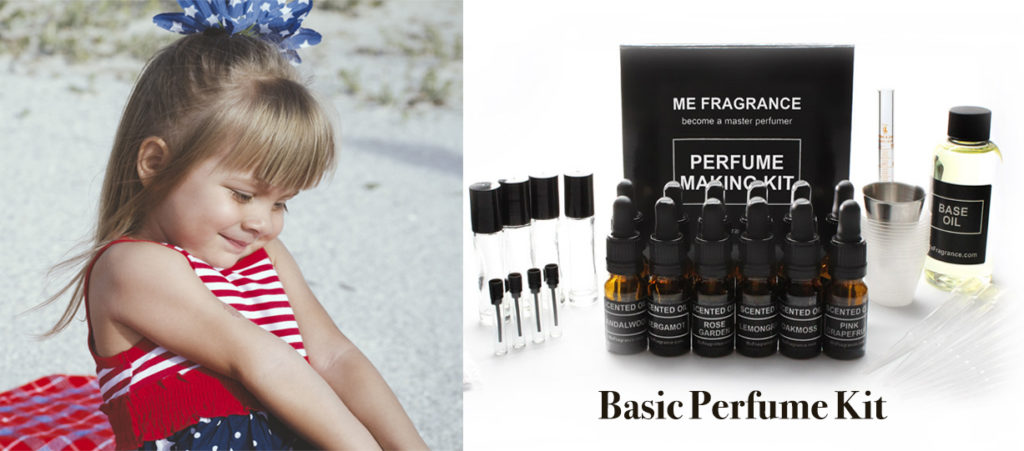 The older your girl becomes, the more sophisticated desires she has. The Basic Perfume Kit consists of 12 different scented oils which would satisfy even the most demanding little Fashionistas.
Love spending time on doing handmade? Your daughter also shares your passion? Deluxe Perfume Kit will encourage your creativity with 20 different scented oils. It is just enough to open a small perfume store)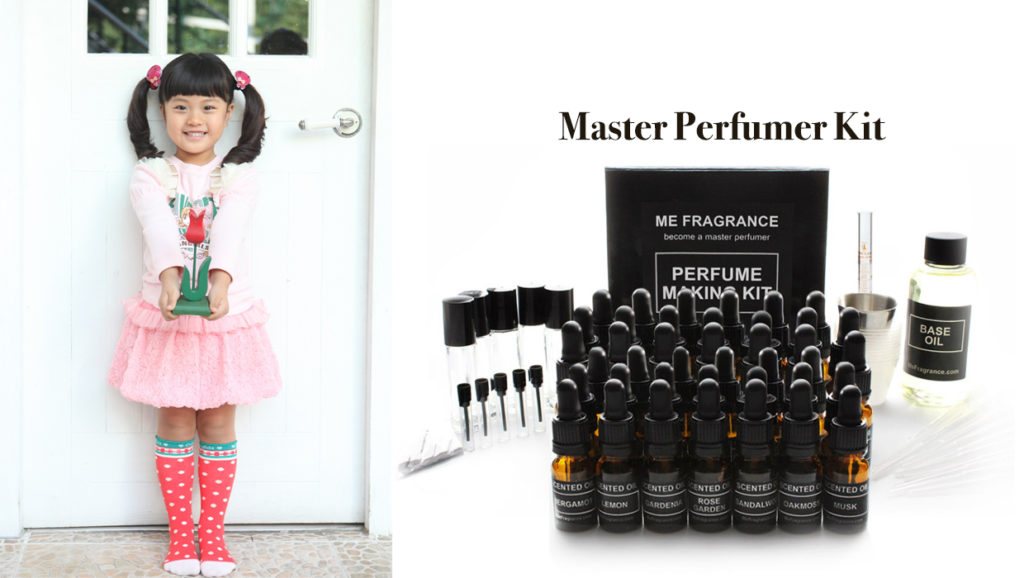 Master Perfume Kit is a wise investment that will benefit all your family. Be sure that all your relatives will get a signature fragrance for every holiday within the next few years.  It is possible if you have 36 world's best essential oils in your kit.