GIVEAWAY // Glasstic Shatterproof Glass Water Bottle
GIVEAWAY // Glasstic Shatterproof Glass Water Bottle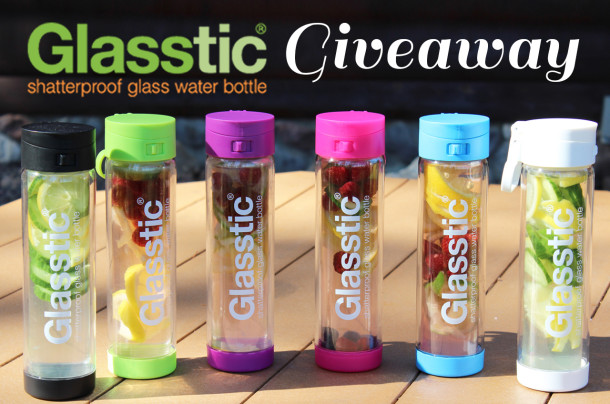 Finally… we've found a water bottle that gets us.
No more dealing with environmentally harmful waste from disposable single use plastic water bottles.
No more stressing about the unhealthy toxins and BPA leaching into your clean drinking water.
No more injuries from the shattered glass of those bottles skimpily covered with a wimpy eighth inch of rubber.
And that's just the beginning of how awesome this water bottle is.
Our friends at GlassticBottle have created a super cool product that is essentially a glass water bottle fitted within a plastic case. Like those shock proof cases for smartphones, the plastic outer shell acts as a protective buffer for the glass bottle within it.
The Glasstic bottle is not only very break resistant, but it is very shatterproof. If you drop it and the glass breaks inside, all of the glass will remain contained inside the shell. The outer shell is made from a highly durable BPA free plastic. This makes disposing of any broken glass much easier, plus the glass insert is replaceable!
This allows you to be drinking straight from clean, toxin-free glass without worrying about walkin' on walkin' on broken gla-a-a-a-ss. Perfect.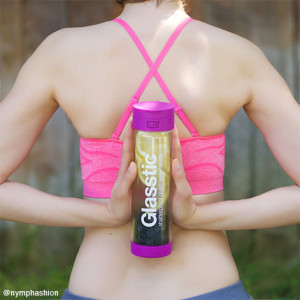 This bottle is great for just about any occasion or activity. Bring it to the gym, office, pool, beach, on a road trip, etc. Bring it to a concert or on a road trip (fits in most cup holders!). It's perfect for infused waters – we like to add cucumber and mint for a refreshing twist – or take your morning juice or smoothie on the go.
The bottle is also great for users of essential oils. Many essential oil users fail to take advantage of the antioxidant and health supporting functions that citrus based essential oils may provide because they haven't been comfortable carrying essential oil infused water in traditional plastic or metal water bottles. That worry goes away with the Glasstic Shatterproof Glass Water Bottle because your essential oil infused water is always contained in pure glass.
By adding great tasting citrus based essential oils to your water you are not only receiving possibly health supporting benefits but also adding refreshing and invigorating taste to your water which makes it a great replacement to soda or sugar filled 'energy' drinks. Also, for every bottle of essential oil infused Glasstic shatterproof glass water bottle that you drink, you are also removing at least one single-use plastic water bottle from a dump or the side of the road.
And here's the best part. (Drum roll, please.)
We've teamed up with our friends at Glasstic Bottle to give away TWO of these amazing water bottles. If we haven't already convinced you that you need to head to Glasstic.com and buy one right now, then you can enter to win one for free. With lots of super easy ways to enter multiple times (even several times every day!), what are you waiting for? 😉
Enter as many times as you want using the entry options via the link below! Each option is an additional entry. Please note: You must make your entries via Rafflecopter Form below to be counted for the drawing.
Giveaway is open to US residents and will run thru January 4th, 2016. Winners will be notified by email within 48 hours of drawing and will be sent 1 Glasstic Bottle of their color choice (either blue, green, pink, purple, white or black) to the address provided. Winner must reply within 48 hours of notification or prize will be forfeited and a new winner chosen. Good luck!