Aroma Biology for the Holiday Season
Aroma Biology for the Holiday Season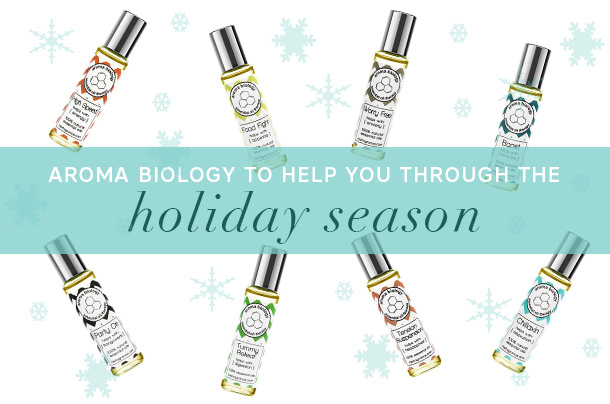 The Holiday Season is officially in full force, not mention all the madness that comes along with it. In the midst of the "Hunger Games-esque" holiday shopping, the endless spiked eggnog, and the awkward visits with not-so-sweet great aunt Sally and creepy cousin Timmy, "ME TIME" is a must.
A great way to deal with the stress and gluttony of the season and reenergize your body and mind is through the use of Aroma Biology. Aroma Biology uses the power of science & essential oil therapy to extract the aroma producing oils of plants to produce positive and effective body responses. Essential oil therapy has proven natural benefits to interact with your body to help with a wide range of physical & emotional conditions.
So if you're about to lose your cool on aunt Sally or if you've indulged in one too many glasses (or bottles) of champagne, consider the holistic treatment of our signature essential oil blends to help you sail smoothly through the chaos and into the new year and beyond.
Here's a list of some of our favorite essential oil blends and their benefits.
High Speed Essential Oils Blend // If you need a boost of energy for those late night gift shopping runs or to get through that  client holiday party, our High Speed Essential Oil blend will kickstart your body into high gear and help you do it all. This perfectly blended essential oil combo will allow you to sprint that extra mile with a pearly white grin on your face. Blend formula includes:
Lime: energizes, elicits cheerful & fresh aroma.

Peppermint: uplifting, stimulating

Ginger: energizing, aphrodisiac.

Clove Bud: warming, spicy effect.
Food Fight Essential Oils Blend // The holidays are all about sharing, giving, and receiving. Food, that is. Unless you're the grinch, you basically cannot escape the endless amounts of treats that will be presented to you. Our Food Fight Essential Oil blend will help stand up to the nonstop cookies, candy canes, and hor d'oeuvres  and give you the willpower to say "no thank you". Stay on track with your appetite and dietary restrictions so you can kick off the New Year feeling and looking your best. Blend formula includes:
Grapefruit: suppresses appetite & prevents bloating

Spearmint: stops cravings, gives you a full feeling

Tangerine: normalizes intestinal function
Tummy Releaf Essential Oils Blend // Ok, so if you couldn't resist the temptation and ended up gorging yourself on shrimp cocktail and pigs in a blanket, fret not. Our Tummy Releaf Essential Oil blend will help ease digestion problems and aid in the digestive process so you can get back to eating your favorite foods without the discomfort. Apply often and gently massage the tummy with this specially formulated essential oil blend extracted from some of the most potent leaves. Blend formula includes:
Star Anise: combats in digestion, stomachic.

Ginger: eases nausea, helps with poor digestion.

Spearmint: helps intestinal track efficiency.

Lemongrass: stimulate the digestive process.
Worry Free Essential Oils Blend // In-laws, travel, party after party, gifts for the babysitter, teacher, boss, mailmain. The list goes on and on. If the holidays have you in a constant state of stress, our Worry Free Essential Oil blend contains essential oils can help ease anxiety and worrying. Our special blend of essential oils should be applied and inhaled during those times when you feel the pressure piling on. Blend formula includes:
Bergamot: calms your emotions.

Rose: helps with anxiety and stress. Helps in times of grief.

Clary Sage: mild sedative to relax the body.

Frankincense: fortifies the mind.
Boost Essential Oils Blend // In the midst of the holiday madness, the last thing you need is to find yourself in bed with the flu. Our Boost Essential Oil Blend can help strengthen your immune system and give it that needed boost when you feel worn out and susceptible to a cold. This blend uses a combination of essential oils specifically designed to aid in improving your immune system. Blend formula includes:
Black Cumin: boosts the immune system.

Lemon: stimulates and purifies the glands.

Eucalyptus: helps with viral/bacterial infections.

Thyme: stimulates white blood cells.
Party On Essential Oils Blend // After a few too many cocktails at the Christmas Party, did you wake up in a strange bed? We've all been there and nothing worse than the morning after. Our Party On Essential Oil blend is designed to help alleviate some of those nasty hangover symptoms and get you ready and able to keep the party going. Forget about the hair of the dog, use our custom essential oil blend often the next morning to flush out those toxins and get you ready for New Year's Eve! Blend formula includes:
Peppermint: helps relieve headaches.

Lavender: helps with nausea and digestion.

Lime: cleanses, purifies.

Orange: uplifting.
Tension Suspension Essential Oils Blend // The constant go-go-go of the season takes a toll on the body. With little time to relax and recover, the tension build up can make you feel giving you headaches, does your head feel like it's going to explode? Our Tension Suspension Essential Oil blend is specially crafted with essential oils that can help reduce or eliminate headaches and allow you to continue through the day. Also can be used to help prevent a headache, so use it BEFORE you feel the tension starting to build up. Blend formula includes:
Lavender: relaxes, relieves tension.

Peppermint: reduces fever, helps headaches.

Helichrysum: helps blood flow more easily.
Chillaxin Essential Oils Blend // Chillaxin Essential Oil Blend helps your body relax during those times you feel you just can't sit still. Achieve peace of mind, physical relaxation and spiritual groundedness with our custom blend. Blend formula includes:

Lavender: calms, reduces anxiety, soothes.

Orange: reduces agitation and relieves stress.

Geranium: helps depression, inner peace.